Abby Ross
Digital Photo Editor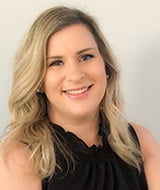 Abby has worked with Egg Donor America since 2010. She loves being able to play a part in helping others through their fertility journey because she knows from firsthand experience the frustration and heartbreak that some people go through when trying to have a child.
Abby's connection to Egg Donor America runs far deeper than a professional affiliation. Like many women, Abby struggled for many years with getting and staying pregnant. After years of trying with no success, her and her husband sought out the help of Egg Donor America. With the help of Dr. Asmar and his team, Egg Donor America was able to help Abby and her husband create the family they always dreamed of.
Today, Abby is a mother to three beautiful children: eight-year-old twin girls and a one-year boy.
"Being a part of the Egg Donor America team has given me the unique opportunity to see so many sides of the fertility journey. I get a front row seat to watch how the small sacrifices of some can lead to life-changing, incomparable moments of joy and fulfillment for others."