Pierre Asmar, MD, FACOG
Founder and Medical Director, Egg Donor America & Egg Bank America


Dr. Asmar specializes in Reproductive Endocrinology and Infertility. He completed his residency in obstetrics/gynecology and his fellowship in reproductive endocrinology and infertility at the Washington University School of Medicine in St. Louis, Missouri, where he also served as an instructor in the Department of Obstetrics and Gynecology.
Dr. Asmar was a clinical instructor at the University of Minnesota's Department of Obstetrics and Gynecology. He is presently a Fellow of the American College of Obstetrics and Gynecology (ACOG); a Diplomate of the American Board of Obstetrics and Gynecology (ABOG); as well as a member of the American Society for Reproductive Medicine (ASRM), the Society for Assisted Reproductive Technology (SART) and the American Medical Association (AMA).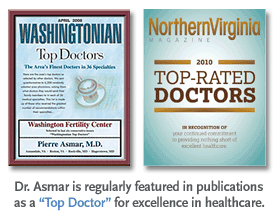 Dr. Asmar has published writings on cellular and biochemical endocrinology, ectopic pregnancy, endometriosis, laser surgery, infections and infertility, the emotional stress associated with infertility and other related subjects.
Over the past 30 years, Dr. Asmar has dedicated himself to helping others create their families. "Experience, excellence, and success." have become his trademark. Dr. Asmar is the founder and current medical director of Washington Fertility Center, a leading provider of fertility care in the United States and throughout the world.